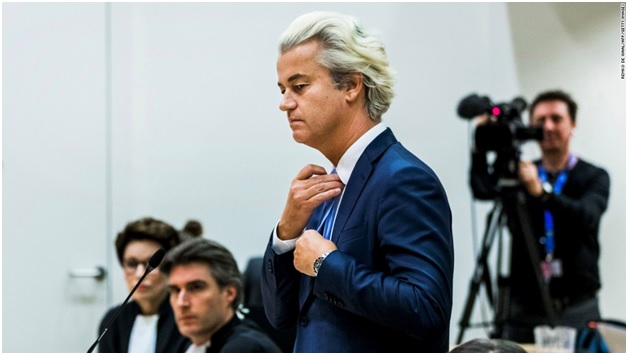 The "far right" in Europe will continue to surge in popularity going into 2017. Dutch populist candidate (PVV leader) Geert Wilders — who's currently leading in the polls and is the main favorite to win the Dutch elections in March of 2017 — has quickly criticized Europe's leaders for their bumbling when it comes to dealing with terrorist events such as we saw in Germany earlier this month.   Speaking to PJ Media, Wilders says:
"This is Europe today. Weak leaders, open borders and Muslim terrorists who freely travel all over our continent wherever they want and kill whenever they see fit. Our governments are asleep, our secret services have no clue at all and our people are killed and in serious danger."
Anis Amri, the Tunisian terrorist responsible for the attack on a Christmas market in Berlin, fled from Germany to the Netherlands after his vicious crime. In the Netherlands, he took a bus to the French city of Lyon and then took a train to the French Alpine town of Chambery. Finally, he headed to Milan, Italy, where he was shot by the Italian police.  People are shocked that this terrorist could travel through 3 countries without being detected.
Wilders:  "We need to close our borders, get rid of our weak leaders by elections, deIslamize our societies in order to safeguard our liberty and protect our people. We are facing an existential problem here; war has been declared on us and we have to start fighting back."
There is a crisis of confidence in the European Union's old political parties. The immigration crisis and open borders that they embraced have enraged citizens throughout Europe.  Wilders is proposing the following:
•Under PVV proposals mosques, Islamic schools and asylum centers will be closed
•the borders will be shut down with a blanket ban on migrants from Islamic countries
•women will be forbidden from wearing a headscarf in public
•and the Koran will be banned.
Wilders is dead serious about implementing these proposals if elected in March.  But to do so he will need more political support from other party members.  The country's system of proportional representation means that he would need to form a coalition government, and the other parties have vowed they will not rule with him.  A big political fight is unfolding in the Netherlands.
Regardless the outcome of the March election, watching what happens in the Netherland's upcoming elections is one of our most important priorities during 2017.  We are told in the book of Daniel, that God often removes and sets up leaders according to His purpose and insights: Daniel 2:21– He controls the course of world events; he removes kings and sets up other kings…We watch Europe with intense interest!-Steven LeBlanc